Watch Out for Phase 2 of Jharkhand Assembly Polls as Political Heavyweights take Centerstage!
After Haryana and Maharashtra, now it is Jharkhand that goes for legislative assembly elections. Currently, the ruling party in Jharkhand is BJP in alliance with All Jharkhand Student's Union (AJSU). It came in power in 2014 and is due to complete its 5-year term.
The elections for the state legislative assembly in Jharkhand are due in December 2019 as the term of the current legislative assembly ends on January 5th, 2020. The election is being contested in 5 phases for a total of 81 seats. A total of 41 seats are required for a majority for forming the Government.
Phase 1 of the election was completed on 30th November. Phase II will be held on 7th Dec, Phase III on 12th December, Phase IV on 16th and Phase V on 20th December. The counting of votes will be held on 23rd December 2019.
Jharkhand goes for Phase II of the five-phase elections on December 7, 2019. In phase 2, 20 members of the state legislative assembly will be elected. Sixteen of these seats are reserved for Scheduled Tribes(ST) and 1 for Scheduled Caste(SC).
Jharkhand Assembly Election Schedule Dates 2019 Constituency Wise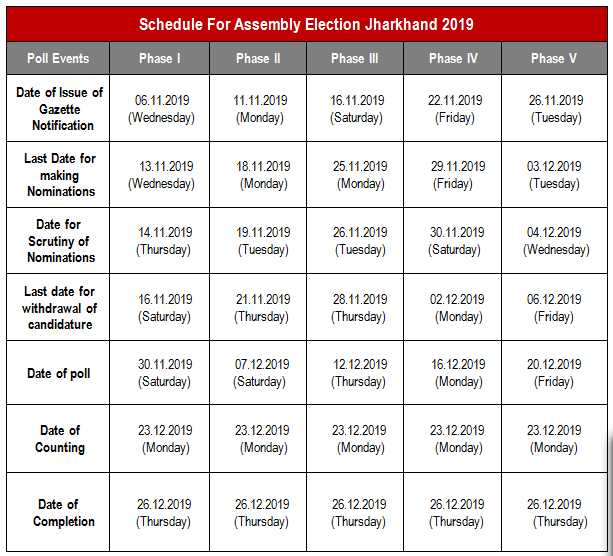 Phase 2 will witness a total of 260 candidates contesting the elections including 29 women. The 20 seats that will go for polls in phase 2 are Maoist infested areas.
The 20 constituencies for which the seats will be contested are Baharagora, Ghatsila, Potka, Jugsalai, Jamshedpur East, Jamshedpur West, Saraikella, Kharsawan, Chaibasa, Majhgaon, Jaganathpur, Manoharpur, Chakradharpur, Tamar, Mandar, Torpa, Khunti, Sisai, Simdega, and Kolebira.
List of 20 (Twenty) Assembly Constituencies of Jharkhand going to poll in Phase-II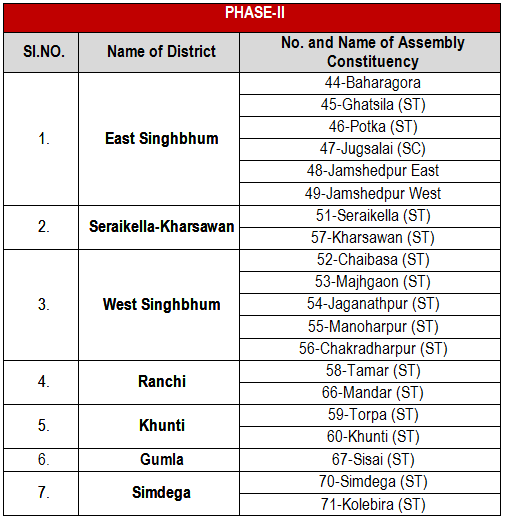 The maximum number of candidates are contesting from East Jamshedpur and West Jamshedpur with 20 candidates on each while Saraikela has the least number of candidates, seven.
The total electorate composition for the phase 2 elections is 4,825,038.
The major state parties who will be contesting either independently or in the coalition are:
AJSU Party
Jharkhand Mukti Morcha (JMM)
Jharkhand Vikas Morcha
Rashtriya Janta Dal (RJD)
The ruling party (BJP) is expected to face a strong challenge from the Mahagathbandhan comprising JMM, Congress, and RJD.
The BJP has fielded 20 candidates with 2 female candidates. Of the alliance partners, the Congress party has 6 candidates; the JMM has fielded 14 candidates including one woman candidate. Other parties with a high number of candidates worth considering are AJSU with 12 candidates including 2 women candidates and the BSP with 14 candidates.
The results of the phase 2 elections are eagerly awaited because they will determine the fate of the heavyweights in the state.
In this phase, the Chief Minister Raghubar Das will be contesting. He will be contesting from East Jamshedpur seat against his old cabinet colleague Saryu Rai and Congress Spokesperson Gaurabh Vallabh.
More than 50% of the candidates contesting are VIPs. Some of the noteworthy ones being Jharkhand Assembly Speaker Dinesh Oraon, Urban Development Minister Neelkanth Singh Munda, Water Resources Minister Ramchandra Sahis, former Cabinet Minister Saryu Rai, and state BJP president Laxman Giluwa.
Jailed Maoist commander Kundan Pahan is also contesting the phase 2 election from Tamar seat.
Election Seat Projection:
If we analyze the 2019 parliamentary election trend in Jharkhand, then we can clearly depict that it is easy to win for the BJP in Jharkhand. In Jharkhand, BJP got the advantage of hard work carried by Narendra Modi at the central level.
Out of total 81 seats, BJP may win the 57 seats according to the analysis predicted by the general election. This stat gives us clear indication that BJP is spreading their dominance in the state. But we have seen in the past, voters have a different opinion for assembly and parliamentary election to vote. But still looking at this strong dominance, we can say that BJP will retain their government in the state.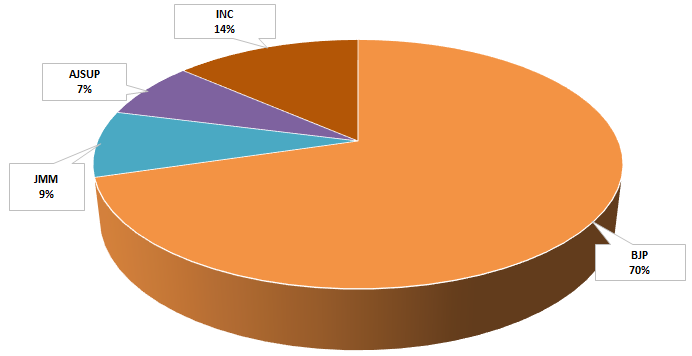 However, there might be a fluctuation of the seat as compared to the parliamentary election but still, BJP holds a very strong position to retain their government in the state led by Raghubar Das.