Media Coverage for Election Management and Survey
1.Neta seek out techies for mind-reading apps
Party workers are being sent out with apps that can analyse perception of a party among voters, conduct opinion polls and gauge public satisfaction with various schemes, like the app developed by Leadtech. "We do surveys and opinion polls and try to create a bridge with voters and our clients," says Vivek Singh Bagri the founder of Leadtech. "Recently we have developed and launched an Android mobile application for increasing the turnout of the voters.
There are various other softwares that we offer like those for analysis of the data gathered from opinion polls and demographic surveys," adds Vivek.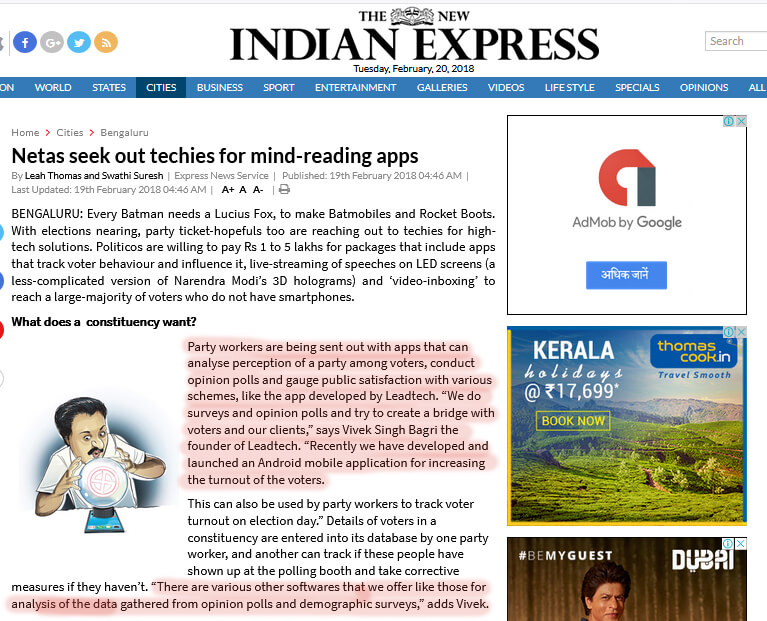 2.Online world not peripheral for netas.
With the internet becoming the new legislative assembly for political discourse, a growing number of political parties and ministers are putting together social media teams to keep a tab on the discussions threading on Twitter, Facebook and other online platforms, to monitor their reputation.
The latest to do so is Trinamool Congress head and West Bengal's chief minister, Mamata Banerjee. According to reports, she plans to hire a private agency to monitor all forms of media, online and offline. Narendra Modi, chief minister of Gujarat, has an online media team to both create a wider reach and track of what is being said about his party and its leaders.
Some of the seniormost in the Bharatiya Janata Party and the Congress are both active on social media and have people monitoring their social presence.
Rajeev Chandrasekhar, the tycoon who's now an independent member of the Rajya Sabha, has a little over 100,000 followers on Twitter, the micro blogging site. He's also got six people to monitor, research and give feedback on the public and political discourse, online and in the traditional media.
"The difference between social and traditional media is that feedback is instantaneous with social media. More, it is the only interactive media, where there is scope for exchange of information, views and debate on issues and policies," he says.
Sushma Swaraj, leader of the opposition in the Lok Sabha, is also active on social media, often expressing views on major political issues and other developments on Twitter. Recently, through the site, she demanded a special session of Parliament to change laws related to rape and other crimes against women.
With a little over 100 million internet users in the country, it is considered a wise decision to track every form of the digital platform. "Political parties need unbiased data and feedback. More and more leaders are now looking at authentic and scientific data, and reports about their constituencies, to frame their political campaigns. Social media is one part but keeping a tab on what's being said and written in every network is important. Doing it manually is not possible. Big political parties need special agencies to monitor all forms of media," said Vivek Singh Bagri, director of Leadtech Management Consulting. The agency provides political consultancy, exit poll data, constituency profiling, campaign management and other services.
Not all agree with the on;ine fascination. According to a political leader, who did not wish to be named, "Social media activities are mostly driven by the youth wing of a political party. More, if leaders only focus on the social media, the chances are they will leave out a large part of their constituency, since only a few people have access to the internet." Basing information and perceptions on public opinion on what is happening online might give a biased picture, was the objection.