RISE OF BJP IN MAHARASHTRA ASSEMBLY ELECTIONS 2019
BJP has shown a remarkable performance in the 2019 general election in Maharashtra which made a clear mandate to repeat an analogous kind of trend for 2019 assembly election.
For the last 20 years, Maharashtra's state elections have immediately followed the national elections and the party securing the most votes in the national elections usually repeats that performance in the state elections.
As in other states, Maharashtra's politics has been defined by the rise of the BJP along with the Shiv Sena, at the expense of the Congress and the NCP. The BJP's popularity now transcends all levels of politics in the state. For instance, in the 2017 Zila Parishad elections (district-level) and the municipal corporation elections, the BJP secured most seats—more than even the regional parties such as the Shiv Sena and the NCP.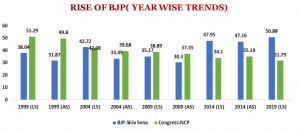 On comparison of the vote share of Shiv Sena and BJP in Maharashtra, they have shown an exponential growth but the growth was majorly observed in Urban areas. As Maharashtra is getting more modernized more increase in the BJP vote share will be seen.
Another reason for the rise of the BJP-Shiv Sena combine is the broad-based caste support it has begun to enjoy, despite the caste-based agitations in recent years. The alliance is now eating into the traditional support base of the Congress and NCP. The NCP, a Maratha-dominated party, could only get 28% of Maratha votes in the 2019 general elections compared to 39% for Shiv Sena. This bend of Maratha voters towards the Sena and BJP is making the opponent to lose they're in most of the region of Maharashtra.
Though Shiv Sena is ally party for the BJP but still a lot of differences is observed among the party ideology as Shiv Sena is openly criticizing the BJP on its working but still it is making less affect on the voters to vote in favour of BJP and Shiv Sena alliance.
The election outcome in Maharashtra will have important implications for the nation's economy. Because of Mumbai, Maharashtra is India's most important state economically, contributing a steady 14% of national output over the past decade. More than these economic factors, though, emotional factors could help bring back the BJP-Sena alliance to power. The abrogation of Article 370 of the Constitution will be well-received by Maharashtra's voters.