Chunav Prachar (Election campaign) is an important part of the electoral process, occurring at the end of each 5-year term. An election campaign is the touchstone of democracy that enables voters to make an informed choice. LEADTECH helps candidates understand their constituency members, through scientific methods of data collection, and launch an effective campaign.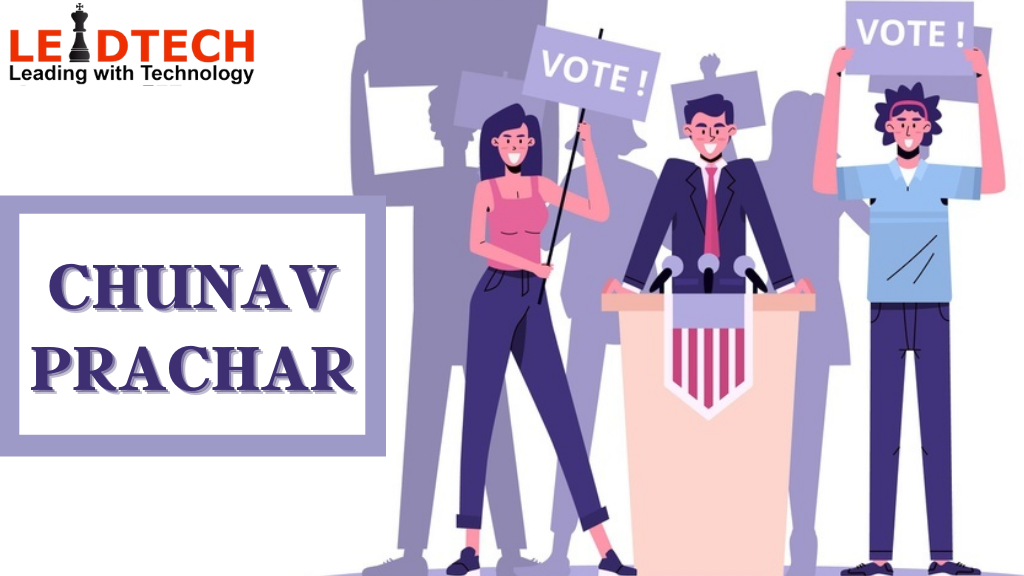 The primary importance of a campaign right before the election lies in its ability to reach out to thousands and even more people through a singular mechanism. Candidates hold rallies and sessions which are attended by many. Reaching out to people personally through live speeches and other methods breeds reliability among the masses, giving the candidate an edge.
This process also puts to test the resilience of the candidate by putting them under heavy scrutiny of the public and media alike. Campaigns are also psychological warfare where candidates find creative methods to leave an imprint on people's minds. This is done through party symbols.
Voters often associate their candidates with these symbols. This also enables them to lay roots for the party they are representing. Chunav Prachar also helps candidates put forward their proposals, giving them a platform to make proposals and promises. These proposals are what help voters decide while polling. Lastly, they display the public skills of the candidates. Politicians are required to not only be well-versed with their constituencies but also be good speakers since a lot of their job is done in the public eye.
Chunav Prachar Gives a Competitive Edge!
In the case of Politics and government particularly, a campaign strategy is designed when political parties put up a candidate for the elections. This Chunav Prachar Strategy involves a series of coordinated events including public speaking and demonstrating to help convince the voters. Following an effective and strong strategy has a big role in winning the election.
Candidate Promotion
This is the obvious reason for creating an effective campaign strategy. Though larger elections get extensive media coverage, for small elections, Chunav Prachar is endowed with the heavy task of promoting a particular candidate.
The objective of Chunav Prachar is to make the candidate memorable to voters, especially when the voters step into the voting booth.
Cause Information
Effective political campaigns are meant to inform the general public about a specific cause. This could be the candidate's platform or the proposed bill. This spread of information is a must so that voters can make informed choices.
Election Date
It is essential for the electorates to be informed about the election date and other details associated with voting. Such details cover election venues, voting sites, and election hours.
Since the motive of Chunav Prachar is to get the people to vote for a candidate, LEADTECH helps political parties to study the environment as well. This covers gaining an understanding of what the voters are looking for in an electoral candidate. Using this vital information, we can design an effective campaign relating to the voters.
Set an aim
While most election campaigns end up going wrong in fixing an aim. LEADTECH helps candidates stick to a singular purpose for the campaign being created. The varying thoughts aims or plans can confuse the campaign making it less effective. Doing this may create confusion among the voters who would not be able to understand the campaign and its focus.
Regardless of whether you as a candidate win or lose, upholding aim is always of great significance. 
There are certain tactics and methods available for a political party to choose from when creating an election campaign strategy. However, the first thing that is performed by LEADTECH experts is a detailed amount of research. This ensures that the tactics being used by us are tried and tested and will guarantee success.
Any wrong move can not only affect the campaign but also potentially cause the candidate to lose the election. We don't know what the future holds and therefore, believe presenting a good image to the public is a smart move.
Why do election campaigns matter?
Election campaigns help political candidates and parties with opportunities to present the right message to citizens, helping voters make an educated and informed decision on Election Day.
Are there any restrictions on displaying posters, and banners of the party concerned or the candidate?
Candidates may use any political sign or display poster, or banner for the party concerned, subject to provisions of local laws and prohibitory orders.
How does Chunav Prachar help political candidates?
Chunav Prachar gives exposure and builds awareness of candidature, as well as the causes.
How does LEADTECH guide political parties or candidates while making election campaigns?
By conducting a detailed amount of research, understanding the voters, and deciding on a fixed aim, LEADTECH helps political parties create a winning campaign strategy.
Hence, Chunav Prachar is an indispensable aspect of electoral democracy as it helps shape public opinion. LEADTECH helps their client's campaign effectively by conducting door to door survey, gathering information, and scientifically analyzing that information. Through this, the candidates get to know the grievances and demands of their target audience and work on them to win the election.