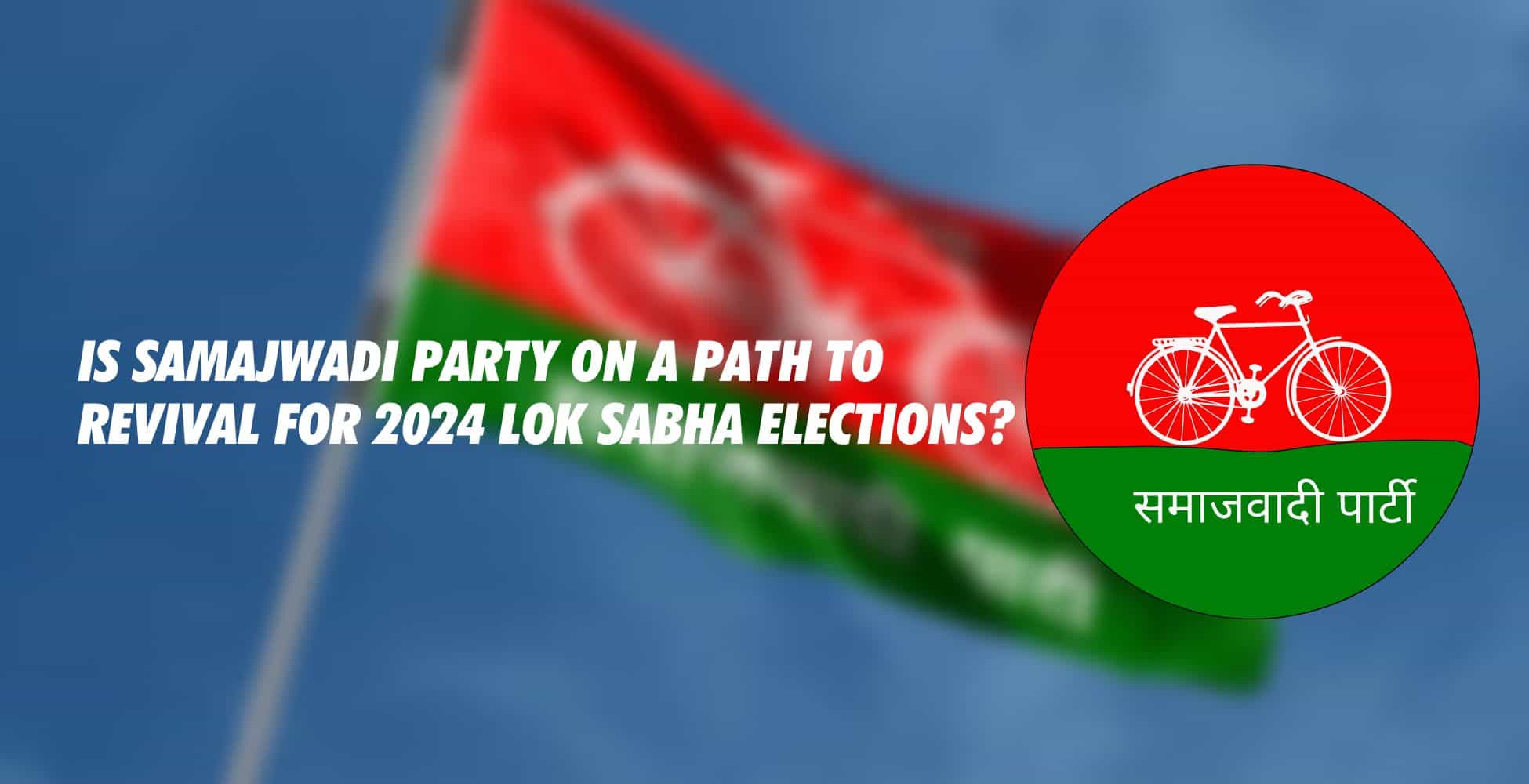 After Samajwadi Party's improved performance in 2022 UP Assembly Elections (combined with BSP's massive decline), many were speculating whether SP was set to regain its ground in Uttar Pradesh.
The next major elections in UP will take place 18 months from now. The 2024 Lok Sabha Elections will be a determinant about the state of SP in the state. In the past election of 2019, in which BJP swept the state, taking 62 out of the 80 seats, SP was in alliance with BSP and RLD.
But presently, the Bahujan Samaj Party has almost diminished entirely. The party which once ruled the whole of Uttar Pradesh independently, only managed to win 3 seats in the 2022 Assembly elections. Hence, it is unlikely that SP would want to form an alliance with them, or even that they can win in Lok Sabha in their individual capacity. There was a shift in the preferences of BSP's loyal voters, and hence the party has weakened at the ground level. The 10 seats they won in 2019 are at risk of being won by either BJP or SP.
SP, in the alliance of 2019, did not benefit much. The alliance partner BSP won 10 of the 38 in which they contested, while SP won only 5 of their 37. In fact, they even lost 3 of them by the end of 2022. Rampur's Azam Khan had to resign following his conviction, Azamgarh's Akhilesh Yadav resigned when he won in the UP Assembly, and Mainpuri's Mulayam Singh Yadav passed away recently. Both the former 2 seats were won back by the BJP in bypolls, and the third one is currently in the process of electing a new MP. Therefore, presently, SP is barely
represented in the Lok Sabha.
BJP continues to remain a strong force in UP. It is very unlikely that their seat share will reduce majorly, even in 2024. They might see a slight change, which could be either positive or negative, depending upon the opposition forces. But the fact of the matter is, their vote share has consistently stayed high, and hence seats are not a major worry for the ruling party.
Players like AD(S) are expected to hold their seats. In the past 2 cycles, the Anupriya Patel-led party has won the two western-most seats in UP. Parties like RLD have contested a few seats in both 2014 and 2019, but have remained unsuccessful so far. JDL was formed only recently, and this will be their second general election, but even then, they are only likely to contest one seat (Kaushambi). Overall, none of their leaders are influential enough nationally to create a wave and influence the results.
Congress could have potentially been considered a serious contender in UP, especially following their recent party restructuring and Bharat Jodo Yatra. But their yatra route in Uttar Pradesh is considerably shorter in proportion to the seats the state carries. Hence, their performance in 2024 is still doubtful.
This only leaves Samajwadi Party as the main opposition to BJP in the 2024 General Elections. Without an alliance, back in 2004, SP peaked by winning 35 of the 80 seats. Their performance was a result of Mulayam Singh Yadav's leadership. But with him out of the picture, the pressure comes on his son, Akhilesh's shoulders. Since leaving office in 2017, his party went through a severe decline, until 2022, when they saw some improvement in the Assembly elections. If his wife Dimple Yadav wins in the upcoming Mainpuri by-elections, SP might be in a position to win more in 2024. In any case, regardless of the aforementioned results, SP is set to win back most of the BSP seats. But unless Akhilesh pulls up his socks and actively opposes the BJP, before and during elections, their party is in the same danger as BSP.
GET IN TOUCH