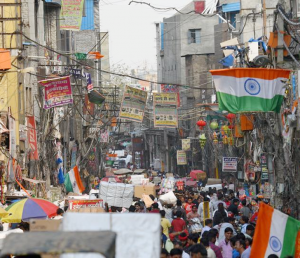 How the net killed Delhi's poll bazar-Hindustan Times
Mohammed Chaman, a short, soft-spoken merchant of election merchandise in Delhi's Sadar Bazaar, is miffed at the way the general elections are going for him.
"I have not sold anything since morning; I don't know who will eventually win or lose, but I am certainly a loser. My business is down by half this time," says Chaman, sitting in his shop overflowing with stacks of scarves, caps, t-shirts, bands, watches featuring slogans and symbols of various political parties.
"This smartphone has killed my business," he says, pulling out a phone from his pocket. "Earlier, the contestants had merchandise rooms at their offices, now they have war rooms where tech-savvy youngsters run their campaign on laptops. They do not seem to need us anymore."
Chaman is not the only one whose business has taken a nosedive — traders and manufacturers in Sadar Bazaar, which has been supplying election merchandise to political parties and candidates all over the country for decades, say they have not seen a slump like this before. And they blame it on the mobile internet.
The trend of online campaigning, which started during the 2014 general elections, they say, has reached a crescendo in 2019, with contestants relying more on digital platforms to reach out to their voters than the traditional methods like public speeches, road shows, door- to- door campaigns, killing their decades-old business.
They are not exaggerating — India now has 450 million smartphones owners against 155 million during the previous general elections in 2014, according to Counterpoint Research. And experts say the online advertising expenditure by political parties is likely to double to 400 to 500 crore this Lok Sabha election.
Political consultants say their clients have realised that election merchandise is out of fashion and a sheer waste of time and money. "They can get 1,000 likes for a few hundred rupees on Facebook, imagine how much time and money it would take to personally reach out to 1,000 households," says Vivek Bagri, who runs Leadtech, a political consultancy firm in Gurgaon. "Besides, digital campaigning has a lot of room for creativity in terms of design and messaging. Since 2014, our business has gone up ten times. We are working in almost every state for political parties and candidates during the current elections."
But Bagri admits that digital campaigning has led to what he calls an 'emotional detachment' between the candidate and their constituents. "A bond is developed when a politician goes to personally meet his or her voters," says Bagri.
According to an estimate by the industry body Assocham, there were around 150 'political consultants', big and small, in 2014. Industry insiders peg their current number at 400, and their stated 'expertise' lies in helping political parties and candidates meet technological and social media challenges.