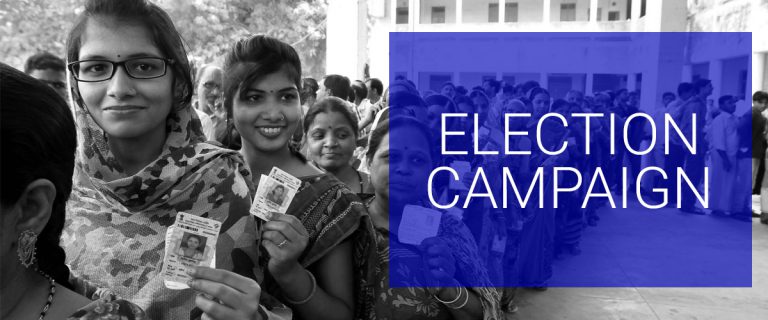 An complete election campaign management company in India or a political survey organization like LEADTECH enables the political candidates and their parties to have an enhanced reach. We also enable them even to emerge victorious in the election through robust election campaigning. We conduct one of the best election campaign management for the leaders. In political e-campaign management, we will make an arranged effort of our support team who will strengthen and facilitate your election campaign over the digital domain.
Our firm is one of the best poll campaign management companies, and we enable you to display your specificity and future advancement designs. In the present years, the web-based networking platform has become prevalent for political views. Taking the advantages of our Election Campaign Company, you can bring a smooth and comfortable work process in the domain of election campaigning. When you are aware of the updates in the political arena, it makes situations less stressful for your party to attend the campaigns and to perform the process of the electoral management system.
Aspects of Complete Election Campaign Management
Data Collection –Data collection is an integral part of an election campaign and the marketing of your party. A reputed election campaign company like LEADTECH can do this in a detailed and integrated manner.
Political Software Availability – Our software services can be used for enhanced data analytics. This will help in a better understanding of the demographics and constituency management. As a result, we will have a better knowledge of how to proceed with the election campaign management process.
Campaign Personalization – You can even personalize and customize the election campaign as per your needs and necessities through the help of our team of experts. As a result, voters may be targeted in a personalized manner.
Better Reach –The better reach is achieved through the use of the various types of campaigning processes and their management. This enables your party to have a robust as well as enhanced reach over the target and potential voters.
Reasonable Pricing of the Campaigning – We avail you of the advantage of cheap and reasonable political campaign management services. Our services are quite reasonable and pocket-friendly. Campaigning is essential, and you should invest in it for better opportunities to win elections.
Target Voter's Involvement in the Campaigning – The political campaign service team from our domain facilitates this service for you. Through the engagement of the voters in the campaigning process, you can better connect with them.
Door-To-Door Campaigning – This is a conventional form but still a widely used and effective method. our team can enable you better facilitate this process. This is an integral way of campaigning in the rural areas of the country.
Mobile-Friendly E-Campaigning – We have some beneficial aspects like the mobile-friendly nature of the election campaigning and marketing of your party. This is a method of digital campaigning that can bring a lot of impacts as the mobile device is common and is owned by the majority of the country's population.
LEADTECH's Complete Election Campaign Management Features
Door-To-Door Campaign Management –We, the leading Election Campaign Company provide a complete door to door survey that helps your party to campaign in the rural areas as well. This is a great benefit that you can avail of from our management services.
Social Media Campaigning – Social media is one of the most prevalent forms of campaigning domains in modern political views. LEADTECH helps you to have a robust social media campaigning process as well.
Political Survey – LEADTECH has a great and active team for an accurate political survey. We help you to get the survey and then also forward it to the analytics team for the in-depth analysis of the big data.
Data Analytics – This is done through top-notch psychologists that we have a liaison with. They will help you understand and determine the demographics of the place. You can also understand the public opinion of your party as well.
Election Management Software – Through our software, you can get the data analytics facilitated even better and more accurate. This helps in the constituency management system.
Why Choose LEADTECH For Election Campaign Management?
Through the complete election campaign management service of LEADTECH, you can beneficially get through a strong elections marketing procedure. We assist you with better access to potential voters and target audience and furthermore empower you and your political party to have an enhanced hold over the political market structure. An essential and invaluable element of our platform is the provision of the voters or the audience review. You can also learn how to manage a political campaign through our services. Accordingly, it will benefit your party adequately by getting a great deal of information to formulate the action plan accordingly. We will expertly assist you to advertise your party and the highlighted features as well as the pros over digital mass media. LEADTECH also helps you with the software facilities and even door-to-door campaign management.
Highlighted features of LEADTECH:
An experienced team of surveyors
Highly advanced political management software
Campaigning over digital domain
Good political campaign management tools
Door-to-door campaigning
Accurate Data Analytics
FAQ-Frequently Asked Questions
Question – 1 What versatile things should be in mind during election campaign management?
Answer – 1 Understanding the right candidate selection, Competitor analysis, data analytics, the use of new forms of election, the involvement of voters, and understanding demographics are the most important things to understand when conducting a political campaign.
Question – 2 How to do the best Election Campaign Management?
Answer – 2 The primary objective of Complete Election Campaign Management is to take a look in your favour. You can take advantage of these services by LEADTECH.  We provide Door to Door Campaign, Political Survey, Opinion Poll Survey, Canopy demonstrations and many more political services that help you to enhance the brand value of your party in your constituency and attract the voters in your favour.
Question – 3 What is the best time to conduct the Election Campaign for political branding?
Answer – 3 In order to reach voters, understand their opinion, and work accordingly, you should manage the election campaign before the election. According to the number of constituencies and voters, the time duration may vary, but you can better understand by consulting political agencies like LEADTECH.
GET IN TOUCH